The School District of Cudahy is a diverse, pre-k through 12th grade public school district located on the shores of Lake Michigan just south of Milwaukee, WI. Our schools offer cutting-edge literacy instruction steeped in the science of reading, as well as multiple pathways to career and personal success.
We, the School District of Cudahy, will guarantee a quality education, where students, staff, families and community work collaboratively to prepare all students to be productive 21st century citizens.
Students, Staff and Learning
What makes our district special?
Our highly dedicated staff believe, wholeheartedly, in the potential of every student! Pride shines through the work of our staff. Whether an educator is working one-on-one with a student, or a whole school is teaming up to generously support a local cause, the School District of Cudahy - and the people who work here - play an integral part in the lives of our community's youth.
The Cudahy School District values the many unique perspectives that our students, staff, families and guests bring to our schools. Our school communities aim to nurture and provide transformative k-12 opportunities in spaces where all children know that they will be physically and emotionally safe at all times. All actions, decisions and practices are chosen to promote unity, restorative justice, access and equity for and among our students and staff.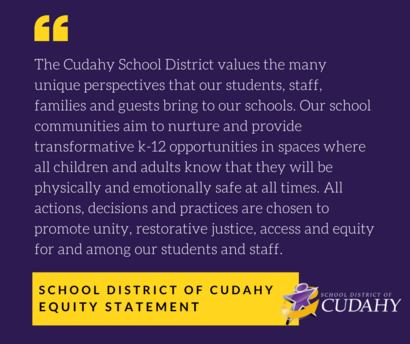 School District of Cudahy
5530 S. Barland Avenue
Cudahy, WI 53110
Phone: 414.294.7400
Fax: 414.294.4083