On this page, families and our community can view the 2020-2021 District Report Card. Wisconsin has recently revised the State Report Card. You will see that there is much more information than in previous years. You will find resources to help you understand the information within the report card by following the links provided on the right hand side of this page. On the bottom of this page, you will find links to the specific school report cards.
Teaching and learning in a pandemic year produced challenges during the 2020-2021 school year. Keeping our doors open to in-person learning allowed us to meet the requirements of Advanced Placement and Dual Enrollment courses at the high school level and build relationships with our students at all levels. The option to learn virtually provided ongoing instruction during the pandemic and quaratine, but this environment also proved to create challenges for teaching and learning.
Ensuring that all students graduate future ready is a priority of our district. The School District of Cudahy has set rigorous goals for the next five years to ensure academic achievement for all students. We will continue to strengthen our systems to ensure all students graduate Future Ready by expecting all students participate in Career Based Learning Experiences, complete a career based pathway, and meet grade level academic standards which will allow all students to pursue the post-secondary option of their choice.
Please visit the School District of Cudahy's website to see the 5 Year Strategic Plan. The chart below shows the trend line of the overall district scores.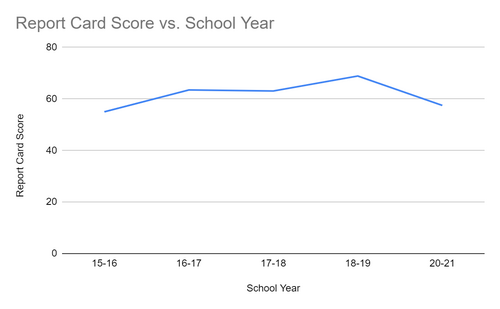 As part of the state accountability system, the Department of Public Instruction (DPI) produces yearly report cards to provide information to all of our families about our school. This report card measures important pieces of data that shed light on how our school is doing, and where we can improve. Please contact the building principal if you have any questions about the school report card.
In order to assist with building understanding and communicating about the School Report Cards, the Wisconsin Department of Public Instruction (DPI) has a number of resources available. Please see the resource links located in the box on the right hand side of this page.
Click here to view Dr. Tina Owen-Moore's Letter for the 2020-2021 District State Report Card
Tina Owen-Moore
Superintendent
Phone: 414.294.7403
Karen Savaglia
Director of Instructional Services
Phone: 414.294.7405